Why It's Worth It To Fight A Traffic Violation
July 8, 2022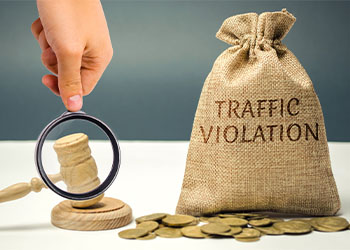 Most of us have been in an instance while driving, minding our own business when all of a sudden flashing lights of a police car appear in the rearview mirror. The first reaction is always the same for everyone, "is it me they are after?"
If you have been recently pulled over for speeding or another type of driving infraction you may be wondering if it's worth it to fight the violation. After all, with a million things on the to-do list, taking the time to appeal the violation may seem more of a headache in the long run. The majority of folks in this situation probably accept the penalties and move forward. But should you? I'd suggest not.
At S. A. Jones Law, Shannon A. Jones, Attorney at Law, has the experience, knowledge, and resources necessary to assist you in building a strong defense if you have been charged with a traffic violation. He proudly serves clients in Memphis, Germantown, Cordova, and Covington, Tennessee.
Understanding the Point System in Tennessee
The amount of points a person receives depends solely on the severity of the violation. The table below illustrates common violations and the assigned point value.
| | |
| --- | --- |
| POINT VALUE | VIOLATION |
| 1 | Speeding 1-5 mph in excess of speed limit |
| 3 | Speeding 6-15 mph in excess of speed limit |
| 4 | Speeding 16-25 mph in excess of speed limit |
| 5 | Speeding 26-35 mph in excess of speed limit |
| 6 | Speeding 36-45 mph in excess of speed limit |
| 3 | Following improperly or tailgating |
| 4 | Failing to obey traffic instructions |
| 4 | Improper passing or lane changes |
| 4 | Wrong way or wrong direction |
| 4 | Making an improper turn |
| 5 | Leaving the scene of a crash |
| 6 | Reckless driving |
| 6 | Violation of license or driving restrictions |
| 6 | Failure to yield to emergency vehicles |
| 8 | Reckless endangerment by vehicle |
| 8 | Failure to stop at a railroad crossing |
Possible Penalties For a Traffic Violation
In the state of Tennessee, all points remain on your driving record for two years. Although many people are initially upset about a ticket, drivers that continuously acquire points can experience several issues including:
Costly fines

Significant increase in insurance rates

License suspension
These penalties vary depending on age, prior convictions, and other determining factors.
Common Defenses For a Traffic Violation
Should you choose to fight a traffic violation, there is no shortage of potential defenses to consider. Here are a few common defenses to consider:
The officer won't show up in court — although this is risky and often the grapevine advice everyone gets from others, if there is a bit of strategic planning in selecting the court date, you might increase your odds for a no-show.

The radar gun was inaccurate —unless the conditions are perfect, there is a large margin for error when using a radar gun to determine speed. In traffic, the device may have picked up another vehicle or other reflective surfaces or signals that interfered with the accuracy of the reading. It is also possible that the gun was not calibrated correctly or properly maintained.

Errors on the ticket — Although a minor error may not be easily excused, if the wrong violation is listed or there are errors in the location of the violation or make and model of your vehicle, your defenses can be strengthened.

Right to a speedy trial — this one circles back to being strategic in planning your court date. In most states, a speedy trial is typically defined within 45-70 days. If the court system can not fit you in within this time period, your case is automatically dismissed.
Seek Legal Guidance Today
Dealing with a traffic violation can be a major inconvenience, and procrastinating can make things even worse. If you are questioning whether it's worth it to fight a traffic violation, contact Shannon A. Jones, Attorney at Law, for advice. Legal advice shouldn't cost you a fortune, and his empathic and skillful approach will take action quickly and secure the best possible outcome.
S. A. Jones Law is an experienced Tennessee criminal defense attorney that is dedicated to defending clients from the harsh or unnecessary penalties of traffic violations. He serves clients in Memphis, Germantown, Cordova, and Covington, Tennessee.
If you have received a traffic ticket of any kind, call right away.