Who Will Have to Move Out of the Family Home?
April 12, 2021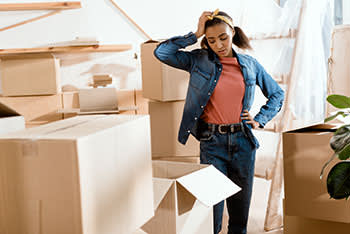 Statistics from the Tennessee Department of Health's report on marriage and divorce indicate that there were 2,053 divorces in Shelby County, Tennessee in 2018. For all of the parties involved, going through a divorce or legal separation is often emotional and difficult. One of the key divorce issues that need to be addressed is the subject of moving out of the marital home or establishing alternative living arrangements.
Due to the emotional attachment involved, vacating the marital home before your divorce is finalized can be a huge decision. Shannon A. Jones, Attorney at Law, is dedicated to providing comprehensive legal guidance to individuals and families in divorce and property division matters. Attorney Shannon A. Jones is available to discuss your situation, guide you through every phase of the divorce proceedings, and help make your transition as seamless as possible.
S. A. Jones Law proudly serves clients throughout Memphis, Germantown, Cordova, and Covington, Tennessee.
Establishing Living Arrangements
One of the most valuable properties of every marriage is the family home. Turning a house into a home requires years of sacrifice, dedication, and hard work. It's no wonder most couples find it difficult to move out of their marital home while the divorce proceedings are going on. To determine living arrangements during a divorce, here are some factors to consider:
Safety
Do you feel safe in your marital home? Your safety is very important and should never be compromised. If your partner has a history of domestic violence, you may need to take measures to protect yourself and your kids from any form of abuse. In certain situations, petitioning for a protective order may be the best option.
Comfort
It is understandable that couples going through a divorce may have different comfort levels when it comes to living in the marital home. To avoid potential disputes, conflicts, or adversarial hostility, some spouses may choose to vacate their marital home until they finalize the divorce. Under Tennessee law, you are within your rights to keep living in your marital home during the divorce process.
Children
Another factor that helps determine who lives in the marital home is child custody (physical). Children often find it difficult to change schools or adjust to a new environment. Since the court has a duty to make the child's best interests a priority, they may choose to maintain the status quo. However, the parent vacating the marital home can establish a suitable parenting plan or visitation schedule which will allow them to continue to spend time with the children.
Finances
What are the financial implications if you continue living in the home? Depending on your level of income, you may decide to keep living in the home and paying the bills and other household expenses. Another alternative may be to sell the home and divide the equity.
Other Available Options
At times, vacating the marital home may not be possible. In such situations, here are some possible alternatives:
Continue living in the house with your estranged spouse, even after the divorce

Sell the property and divide the equity

Create a schedule whereby different parents will be living in the house with the children at different times, often referred to as "bird-nesting"
Does Staying in the Marital
Home Mean You'll Get the Property?
You do need to understand that the fact that you are living in the marital home during the divorce proceeding doesn't necessarily indicate that you will get ownership of the property during asset division. Who stays in the house is typically a function of:
Who has primary physical custody of the children

Who has sufficient income to continue paying the household expenses
Under Tennessee law, the marital property should be distributed equitably and fairly. If one spouse is awarded the marital home, the other party will receive another property or money similar in worth.
How S. A. Jones Law Can Help
Filing for divorce in Tennessee usually involves several complicated procedures. Distributing marital assets or establishing a fair living arrangement with your ex-spouse can make the whole process more complex and stressful. Thankfully, a knowledgeable Tennessee family law attorney can review your available options and help you determine the best course of action.
Attorney Shannon A. Jones has devoted his career to offering experienced legal services and helping clients navigate the complexities of divorce proceedings. As your legal counsel, he can evaluate the circumstances surrounding your unique situation and help you understand your available options. He will also help review the key divorce terms and work diligently with both parties to resolve relationship differences peacefully and quickly.
Contact S. A. Jones Law today to schedule a one-on-one consultation with an experienced divorce attorney. Shannon A. Jones, Attorney at Law, can offer you the experienced legal counsel, advocacy, and support that you need to navigate critical decisions and move forward. He is proud to serve clients in Memphis, Germantown, Cordova, and Covington, Tennessee.