When Your Ex Is Dragging Out Your Divorce
April 5, 2023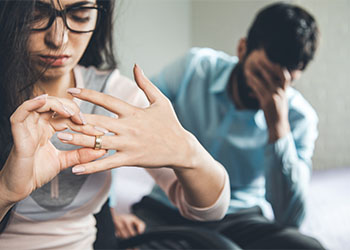 Grounds for a divorce in Tennessee can be irreconcilable differences or any number of complaints, including adultery, alcohol or drug addictions, desertion, and more. Generally, a divorce based on irreconcilable differences can result in an uncontested divorce, in which both spouses agree to the terms of the dissolution. A divorce based on a different reason will likely be contested – in other words, fought out in court.
Even in a divorce filed on irreconcilable differences, however, one spouse may resort to stalling tactics for various reasons – to gain the upper hand, to somehow reconcile, to hide assets, or to seek revenge. If one spouse simply refuses to engage in the process, you do have options starting with your attorney and then proceeding to the courtroom to seek a judge's assistance.
If you're contemplating or are already involved in a divorce in or around Memphis, Tennessee, and your spouse is putting up a fight – stalling or refusing to cooperate – contact the family law/divorce attorney at S.A. Jones Law. You can discuss with Shannon A. Jones your situation and map out a course to resolve the obstacles blocking your path to moving on to a new life. The law firm also proudly serves clients in Germantown, Cordova, and Covington.
Common Divorce Stalling Tactics
The first stalling tactic, which could turn out to be counterproductive, is not responding when divorce papers are served. This can allow the spouse who filed to obtain a default judgment from the court. If you don't respond, that can be viewed as your agreement to the terms of the divorce as specified by the petitioner.
Beyond the initial serving of papers, however, a spouse may resort to other tactics to delay the process. Usually, this means not responding to requests for financial and other documents from the filing spouse and his or her attorney, not showing up to meetings, and even continually asking for extensions. The stalling spouse may also juggle attorneys (firing one, hiring another) in an effort to slow down the process or bring it to a halt.
Reasons for Stalling
A spouse can have a variety of reasons to try stalling the outcome. He or she may want to reconcile. Hiding assets is another reason. Trying to strong-arm the other spouse to get a lion's share of the assets is another common ploy.
You can't rule out the revenge motive either. Avoiding child or spousal support can be foremost as well. Simply not wanting to move on to an unknown future and leaving the comfort of your marital nest behind is also a big factor.
Tips for Keeping Your Divorce on Track
Obviously, if your spouse is stalling, the potential for an uncontested divorce – an agreement reached outside of the courtroom – is probably out the window. This means that you need to consult with your attorney – or hire one – to pursue your legal options.
Your attorney can demand that your spouse turn over all financial statements, tax returns, loan applications, and other documents. The court can even apply sanctions – fines or other penalties – if she or he doesn't comply.
You and your attorney can also use what is called the discovery process, which involves presenting your spouse with a series of questions – called interrogatories – designed to uncover the truth. The discovery process can even be in the form of an oral deposition before a court reporter under oath.
You and your attorney can also get the judge to order a settlement conference. A settlement conference is held in the judge's chambers, and just the fact of that can force a stalling spouse to suddenly start cooperating.
Move Forward With an Attorney's Support
Divorce is a time of great emotion and the airing of each spouse's grievances, making it a challenging experience. If you can work out an uncontested divorce, that saves both time and court expenses. You just present your settlement agreement to the judge for approval, but that's not always possible.
If you're in a situation where your spouse is uncooperative – even deliberately stalling everything – you need to rely on the help of an experienced family law/divorce attorney. In the Memphis area and surrounding communities, reach out to S.A. Jones Law with all your questions and concerns about the divorce process. Get the process back on track and help reach a resolution that allows everyone to move forward in life.