Understanding the Pros and Cons of a Prenuptial Agreement
July 13, 2023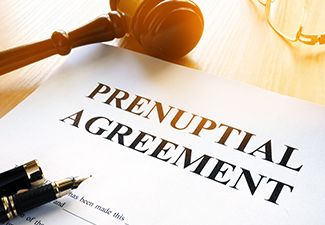 Getting married is a joyous event, and you might not want to consider the possibility of divorce before you've walked down the aisle. However, a prenuptial agreement can be an incredibly helpful tool for both spouses.
A family law attorney will be able to guide you through the process and advise you as you draft the document. Shannon A. Jones, Attorney at Law is committed to protecting his clients' futures and ensuring that they enjoy peace of mind as they begin their marriages.
S. A. Jones Law proudly serves Memphis, Tennessee as well as Germantown, Cordova, Covington, and the rest of the state. Set up a consultation today.
What Is a Prenuptial Agreement?
Before you start planning your future, it may be helpful to review some common questions about the advantages and disadvantages of marital agreements. For instance, what exactly is a prenuptial agreement? A prenuptial agreement is a contract that states how a married couple's assets and debts will be divided in the case of a divorce. Such an agreement is signed before marriage. A postnuptial agreement, on the other hand, is another kind of marital agreement signed after the couple have wed, and follows a similar procedure.
A prenuptial agreement can cover division of assets and debts, questions of spousal support, provisions for children from previous marriages, and retention of certain separate property (family heirlooms, etc.) in the case of divorce. Keep in mind that a prenup cannot cover child custody and child support; these matters must be decided by the court in the case of divorce.
What Are the Benefits of a Prenuptial Agreement?
Avoiding Court Battles
A prenuptial agreement can help you and your spouse make a clear plan that will be honored by the court if the marriage ends. While a prenuptial agreement can help wealthy spouses protect their assets, anyone can benefit from stating their wishes clearly in a prenuptial agreement. For example, Tennessee is not a community property state. In Tennessee, the court generally determines what would be an "equitable distribution" of assets after a divorce, rather than splitting marital property 50/50 between the divorcing spouses. If you and your spouse can agree on how you'd want to divide your property in the case of divorce, you can rest easy knowing that you, and not the court, will make the final decision about asset distribution—and that you'll be unlikely to face a lengthy court battle over the property.
Protecting Yourself from Debt
A prenuptial agreement can help ensure that you and your spouse are both protected from the other spouse's debt. In a prenuptial agreement, you can include provisions that decide how you will split marital debts in the case of a divorce.
What Are the Drawbacks of a Prenuptial Agreement?
The Agreement Might Be Unequal
If you are drafting a prenuptial agreement before your marriage, you might be reluctant to even entertain the possibility of divorce. Therefore, you might choose to draft an agreement that favors your spouse. To ensure that both you and your spouse receive the shares of marital property that you deserve, you should make sure that both you and your spouse draft a more equitable agreement with the help of an attorney.
It Could Be Unnecessary
If you live in a community property state and you both agree that a 50/50 division of marital assets is fair, you might not need to draft a comprehensive prenuptial agreement. However, as outlined above, prenuptial (and postnuptial) agreements can cover several matters that might be vital to your marriage. An attorney can help you consider and plan for these issues.
Comprehensive Legal Advice
With extensive experience practicing family law and an excellent client satisfaction rate, Shannon A. Jones is ready to assist you in family law matters. If you are considering drafting a prenuptial or postnuptial agreement in Tennessee, contact Shannon A. Jones at S.A. Jones Law in Memphis today for a consultation.