Social Media Can Damage Your Family Law Case
Aug. 16, 2023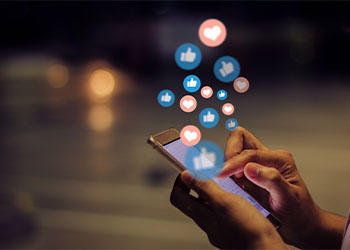 Social media has become ingrained in our modern culture, which has exciting benefits as well as potentially damaging consequences. While being able to connect with millions of other users located anywhere around the globe offers many opportunities past generations never experienced, there can be serious drawbacks if you end up sharing too much information about yourself or your life. When you are in the middle of a family law case, you may be surprised to learn about the impact your social media activity can have.
If you are involved in a family law matter (such as a divorce, child custody dispute, or other issues), S. A. Jones Law can help you be aware of what you should—or shouldn't—post on social media. For more advice and legal counsel to navigate your way through your family law case, contact the firm today to schedule a consultation. The firm proudly represents clients in Memphis, Tennessee, and the surrounding areas of Germantown, Cordova, and Covington.
Social Media & Your Public Image
Publicly portraying an image of yourself on social media that conflicts with the image you present in court can cause serious issues. If your behavior on social media platforms offers the other side an opportunity to call your character into question, it can lead to your case becoming more contentious and present obstacles that could be more difficult to overcome in the eyes of the court.
How Social Media Can Affect Your Family Law Case
Depending on the type of matter you're dealing with in court, social media can have different consequences. Knowing how your social media posts and activity relate to your specific case can prepare you to make informed decisions online.
Alimony
Posting about extravagant purchases, lavish vacations, or other high-dollar expenditures can work to your detriment. If your former spouse is looking to get as much from you as they can each month in alimony, you could have a difficult time claiming you can't afford it.
Child Custody
If you are looking to obtain custody of your child or modify an existing arrangement to spend more time with them, you will want the court to believe a child will be safe and well cared for when they are with you. Social media posts depicting dangerous, erratic, or irresponsible behavior will work against you.
Dating
When going through a divorce, it is in your best interest to keep things as amicable as possible, avoiding upsetting your spouse or giving them any reason to make the situation more contentious. Posting happy pictures of your new boyfriend or girlfriend may cause unnecessary trouble.
Steps to Take to Protect Yourself
In order to keep your social media activity from having a negative impact on your family law case, there are some simple things to consider, including:
Taking a break from social media altogether

Refraining from posting about your children

Abstaining from posting about your purchases

Not communicating with your ex-spouse through social media

Keeping any new romantic relationships private and not posting about them online

Not checking up on your spouse (or ex-spouse) through social media

Cutting off contact with other people who may share information about you with your spouse
Using discretion and good judgment in your social media activity will go a long way toward keeping your online posts from harming your family law case.
Representing Clients With Care
Family law cases commonly involve people going through some of the most stressful and emotionally challenging experiences of their lives. Having a law firm dedicated to serving the needs of people dealing with problems in their family relationships can be a comfort as you try to find a path forward.
Attorney Shannon A. Jones has the experience and insight to stand by your side and lead you in the right direction with confidence and compassion. If you are dealing with a family law issue in the greater Memphis, Tennessee area (or the nearby cities of Covington, Cordova, or Germantown), the first step toward a more peaceful future is getting in touch with a knowledgeable attorney. Contact S. A. Jones Law today to schedule a consultation to discuss your situation.