How to Modify a Child Support Arrangement
Oct. 19, 2022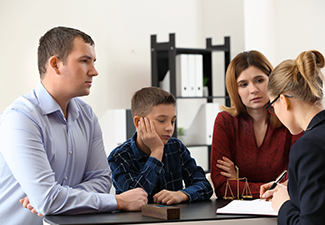 During a Tennessee divorce, quality child support agreements are usually established to cater to the financial needs of the children living with a single parent. However, different changes in circumstance – such as an income decrease, an increase in the child's needs, or a new child – can make the originally agreed child support amount unreasonable. An experienced Tennessee family law attorney can help you understand the requirements and process for modifying a child support agreement.
Attorney Shannon A. Jones is dedicated to offering knowledgeable and detailed guidance to clients in the legal matters of divorce and child support modifications. He's available to discuss your unique situation and help you understand the acceptable reasons to modify a child support arrangement. Also, Shannon A. Jones can enlighten you about Tennessee guidelines for modifying child support and help you navigate intelligent decisions. The firm is proud to serve clients across Memphis, Germantown, Covington, and Cordova, Tennessee.
Reasons to Modify a Child Support Arrangement
Parents going through a divorce or legal separation usually establish reasonable child support arrangements to cater to their children's basic needs. These include their school tuition, day-to-day living costs, health and dental insurance, and other bills required to maintain a quality standard of living for the child.
However, there may come a time whereby the child support amount that was originally agreed upon can no longer cater to the child's needs. In such situations, modifying child support payments may become necessary. Here are some common reasons to change a child support arrangement:
Changes in the parent's financial situation

New job with increased income

A severe illness or injury which makes the parent unable to keep working

Unemployment or involuntary job loss

An increase in the child's needs

A new baby

Active military duty

Custody changes

A permanent disability

Incarceration

Remarriage

A decrease or increase in the cost of medical insurance or childcare.
An experienced attorney can help you understand how to modify child support in Tennessee and guide you through every legal step involved.
Tennessee Guidelines for Modifying Child Support
In order to seek child support modification in Tennessee, the requesting parent must show that there has been a significant variance which makes it necessary to change the existing child support amount.
Under Tennessee law, a significant variance is defined of as at least a fifteen percent difference in the current and proposed child support change. Imputing Income
However, if a parent fails to provide accurate information about their earnings in order to avoid or reduce their child support amount, the Tennessee court may have no option but to impute their income. Below are some of the factors that may be used by the court to determine the imputed income of the underemployed or voluntarily unemployed parent:
The parent's employment history or previous jobs.

The parent's income history or past earnings.

The parent's level of education, qualification, or skills acquired.

The available employment opportunities in the parent geographical location.

The parent's assets.
A knowledgeable Tennessee child support attorney can fight compassionately to advocate for your support rights and help you understand how remarriage can affect the support amount.
How Remarriage Affects Support
Typically, remarriage alone does not affect child support agreements directly. Nonetheless, the different circumstances connected with remarriage may bring about significant variance that affects child support amount. Examples are:
Changes in income

The new spouse adopts the child

New household expenses

Change in visitation schedules

Change in the child custody agreement
Depending on your unique situation, the Tennessee court may take the new spouse's income into consideration when adjusting the child support amount. A skilled lawyer can guide you through the child modification process and help you navigate crucial decisions.
Legal Support When You Need It Most
Changing child support agreements in Tennessee usually involves several complexities. If you believe that there have been different changes in circumstances that make the original child support order inappropriate and you're seeking a modification, consulting with an experienced family law attorney is paramount to protect your child support rights and for proper guidance.
Shannon A. Jones, attorney at law, has the diligence and knowledge to guide individuals and families through the complicated process involved in child support adjustments. Using his extensive experience, he will work meticulously with all parties involved to achieve a fair child support amount that is consistent with the child's needs and the current economic situation. Also, Attorney Jones will keep fighting for your family's best interests and assist you in the best possible way.
Contact S. A. Jones Law today to schedule a simple consultation with a reliable divorce lawyer. Attorney Shannon A. Jones can offer you the highly-personalized legal guidance and dedicated advocacy you need to make informed decisions in your child support modifications. The firm is proud to serve clients across Memphis, Germantown, Covington, and Cordova, Tennessee.