DUI Penalties in Tennessee
June 14, 2022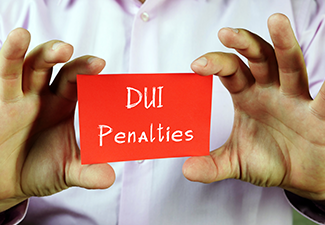 You got a DUI in Memphis, Covington, Cordova, or Germantown, Tennessee. If you are like many of the DUI clients represented by Shannon A. Jones, Attorney at Law, you are probably mad at the officer who stopped you and perhaps angrier at yourself for getting one.
You may also think you should just accept the usual punishment and move on with your life. However, driving under the influence of drugs or alcohol is not a traffic violation, like speeding or failure to yield the right-of-way. It is a criminal offense that comes with criminal conviction penalties. The penalties you face for a DUI conviction are far from minor and temporary. You pay the price for a very long time.
Whether you don't believe you were driving while over the legal limit or think you probably were, the best decision you can make right now is to hire an experienced criminal defense attorney. S. A. Jones Law may be your best shot at suffering as few consequences as possible. Here are the DUI penalties you face in Tennessee.
Jail Time for Tennessee DUI
DUI in Tennessee is a misdemeanor criminal offense unless it is your fourth DUI in 10 years. In that case, the offense rises to a Class E felony.
Even a first DUI conviction comes with a 48-hour jail stay. If your blood alcohol content (BAC) was .20% or higher, the minimum sentence is seven days. If you had a passenger in the vehicle under the age of 18, add another 30 days minimum to the stay. A conviction for a second DUI comes with a minimum jail sentence of 45 days.
The length of time you are sent to jail is at the judge's discretion. Depending on the circumstances, you can be sentenced to a maximum of 11 months and 29 days for first, second, and third DUI convictions within ten years.
For those sentenced to 48 hours to seven days in jail, there may be opportunities for you to be allowed to work during the day and return to the jail at night. In some cases, the judge may have the latitude to order you to complete 400 hours of community service in lieu of up to seven days in jail.
Fines and Costs for Tennessee DUI
Fines are also among the penalties for DUI convictions. In Tennessee, the fine for a first conviction ranges from $350 to $1,000 and from $600 to $3,500 for a second DUI conviction. For a third conviction, you may pay from $1,100 to $10,000.
If you are ordered to install an interlock ignition device (IID) on your vehicle to obtain a hardship license, you will be required to pay for the installation, calibration, and monitoring of the device. Moreover, you will be required to purchase SR-22 insurance for high-risk drivers. High risk equates to much higher premiums than you were likely paying before.
Community Service and Counseling for Tennessee DUI
There may be the potential for completion of 400 hours of community service instead of serving minimum jail sentences. Those convicted of DUI offenses who can't afford the fines may be allowed to complete a certain number of community service hours instead. The hours must be completed with an approved organization within a certain time.
Completion of DUI alcohol and drug treatment programs is also a standard punishment for a Tennessee DUI conviction. The offender may also be required to participate in a victim impact panel as part of their sentence.
License Suspension for Tennessee DUI
Your driver's license will likely be revoked for one year following a first DUI conviction and two years for a second conviction. You may qualify for restricted driving privileges that allow you to drive your vehicle for specific and necessary purposes, such as to and from work, school, medical appointments, community service, alcohol treatment, court, and meetings with your attorney.
If you drive a vehicle in Tennessee, you give implied consent for a test of your breath, blood, or urine if law enforcement has probable cause to request it. If you refuse, your license will be revoked for one year for a first refusal and two years for a second. That revocation will be on top of any revocation ordered as punishment for the accompanying DUI conviction.
If you are issued a hardship license during your suspension, you will be required to install an IID and carry SR-22 insurance.
Additional Consequences for a DUI Conviction in Tennessee
In addition to the penalties the court and the Department of Revenue may impose, there are other serious consequences you may pay for a DUI conviction.
Your criminal record may cause you to lose your job, professional certification, or licensure, and be barred from employment in certain fields;

You will likely pay higher rates of auto insurance, long after you are no longer required to carry SR-22 insurance;

If you injured someone else while driving under the influence, you could face a personal injury lawsuit filed by the victim; and,

Your DUI may exert long-lasting damage to personal and professional relationships. You could even lose custody of your children and have your visitation restricted which can damage your relationship with them forever.
Skilled & Compassionate Counsel
There is no such thing as a minor DUI charge. The impact of a conviction is at minimum, difficult and can be devastating. Shannon A. Jones, Attorney at Law, understands that everyone makes mistakes, including law enforcement, and that the prosecution's case against his clients is not always cut and dried.
A good criminal defense attorney provides his clients with skilled and compassionate legal counsel while constructing a formidable defense against the charges. That's what Shannon A. Jones, Attorney at Law, will deliver.
Don't try to represent yourself against a DUI charge. There's too much at stake. Call S. A. Jones Law now. He proudly serves clients in Memphis, Covington, Cordova, and Germantown, Tennessee.