Common Misconceptions About Divorce in Tennessee
Jan. 27, 2021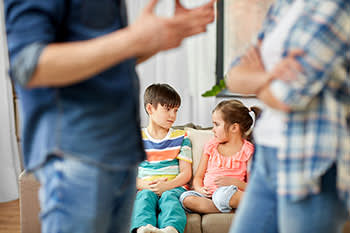 According to statistics from the Tennessee Department of Health, in 2018, there were about 23,840 divorces statewide. Going through a divorce or legal separation can be emotional and overwhelming. However, with so much misleading information out there and false assumptions surrounding divorce, it is relatively easy to make mistakes without proper guidance or legal representation.
Shannon A. Jones, Attorney at Law, is dedicated to offering comprehensive legal guidance to clients in family law and divorce matters. As an experienced Tennessee family law attorney, he will review the circumstances surrounding your unique situation and enlighten you about your divorce options. Shannon A. Jones can fight to protect your rights and offer you the knowledgeable counsel you need through every step of your divorce proceeding.
Shannon A. Jones, Attorney at Law serves clients throughout Memphis, Germantown, Cordova, and Covington, Tennessee.
Misconceptions About Divorce
Going through a divorce or legal separation can be an unsettling and emotional experience. Unfortunately, common misconceptions and false assumptions can make the marriage dissolution process even more overwhelming. However, if you know what to expect and you are able to separate fact from fiction, the process will feel more manageable. Here are some common misconceptions about divorce and what makes them false:
Misconception 1: If the other parent doesn't pay child support, I can withhold parenting time.
This common misconception is often responsible for a lot of issues. Divorcing couples need to understand that a child support order is a separate issue from a parenting time agreement. Even if the noncustodial parent defaults on child support payments, the custodial parent has no right to withhold parenting time. The aggrieved parent can file a post-decree modification motion to address such issues.
Misconception 2: It's possible for one of the spouses to deny the divorce
In Tennessee, divorce can either be contested or uncontested. When a spouse denies the divorce and refuses to sign divorce papers, the divorce is considered contested. In a contested divorce, a hearing will be required for the court to establish the reasons for contesting the divorce and to resolve one or more essential divorce settlement terms.
Misconception 3: If adultery was involved, the other spouse gets everything.
Adultery is among the "fault" grounds for divorce in Tennessee. However, infidelity doesn't directly impact the property division aspect of the divorce. When dividing marital property, Tennessee courts won't consider adultery unless one of the spouses spent the couple's finances on the extramarital affair, such as going on vacations, booking hotels, or buying expensive gifts for the illicit partner.
Misconception 4: The mother is always awarded primary custody of the children.
Generally, child custody trends indicate that the mother is usually awarded primary custody in most cases. However, things are now different. According to Tennessee Code Annotated Section 36-6-106, the court may award custody to either parent or both parents for shared parenting or joint custody, depending on the best interests and welfare of the child. Additionally, the Tennessee court believes that joint custody and regular contact with both parents is generally in the child's best interest.
Misconception 5: You have to get divorced in the same state in which you got married.
You don't necessarily have to file for divorce in the state where you got married. You can file for a divorce in Tennessee in the county you currently live. According to Tennessee Code Annotated Section 36-4-105, you must be a resident of Tennessee for at least six months prior to filing for divorce.
Misconception 6: If the property is in the name of only one of the spouses, they get to keep it.
Issues of asset division usually arise during every divorce process. Marital property includes all assets and debts accumulated during a couple's marriage. Separate properties are assets owned or debts incurred by each spouse before the marriage, including third-party inheritances and gifts. In a contested divorce, the judge will divide the marital property fairly and equitably. Regardless of whose name the property is in, it will be divided equitably if it is categorized as marital property.
Misconception 7: Our assets will all be split 50/50.
A lot of people assume "equitable property division" means a 50/50 split. However, "equitable" doesn't mean the property will be divided equally. It only means the asset distribution must be fair. When dividing assets, Tennessee courts will consider the following factors: the duration of the marriage, family responsibilities of each spouse, current and potential earning capacity of each spouse, the financial situation of each spouse, and how and when the marital property was acquired.
Get Help from an Experienced Tennessee Divorce Attorney
With the complicated procedures involved, the Tennessee divorce process can be daunting. Trying to negotiate a divorce settlement, property division, establishing alimony, child custody, or support arrangement with your estranged partner can make the process even more difficult and stressful. Thankfully, an experienced Tennessee family law attorney can help you decide the best course of action for your unique situation and help you navigate critical decisions.
Shannon A. Jones, Attorney at Law, has devoted his career to helping individuals and families through this difficult period in their lives. As your legal counsel, he will help you understand your unique situation and explore your possible legal options. Using his extensive experience, he will work diligently with all parties involved to negotiate a fair resolution and settle relationship differences and divorce issues productively. Shannon A. Jones can help you protect your family and your future, and make the transition as smooth as possible.
Contact Shannon A. Jones, Attorney at Law, today to schedule a one-on-one case assessment with a knowledgeable divorce attorney. Shannon A. Jones proudly serves clients throughout Memphis, Germantown, Cordova, and Covington, Tennessee.